PLEASE GET THINGS RIGHT!
Thanks for the support to people who support me. I mean, each side has their supporters, no one i will blame.
Yes, settle and end this relationship is what WE want, so please, don't message me things like I still love you from far and watch over you from far ( yes, I feel so much better, but still, it will make me fall even harder ) when you know I will get softhearted. If you people supporting him by thinking that he wanna make me forget about him like what he blog about, but why still give me false hope telling me all that? to make me fall deeper??
People just support me, I can choose to do what I really want to do. At the same time, DON'T ASSUME that I call my friends or my sister to blog, message or call Vin* to just knock some sense in him.
You also don't ASSUME. Don't say that i went back to my ex boyfriend when you don't even know whats happening. If you really wanna know the truth, I will say, I am NOT calling him or even contacting him. Can't he read my blog and yours? He is also friend of my friends, so? what makes you think that I CALLED HIM TO SCOLD YOU OR... WHATEVER?? wake up ur idea please.
From your old blog "Feel so dumb suddenly. My brother even tells me after
all the things she write in her blog and exaggerate everything
she said I still so dumb and so thick skinned going back with her.
I never blame her from anything she say, because it was true
"
So what i blog about, its exaggerating or is it true? Make up your mind.
So to you I am good at words and gain pity, so if i am trying to exaggerate, how can it be true at the same time??
I've got so much to explain. After reading Derence*s blog. To Derence* I really don't think i need to spend your brother's money, money issue, I didn't really bother, but since you blog it this way, I need to voice out. Yes, your mum's dinner and everything, I always reject it coz I hate to owe. But to please your bro, I did really everything. He will get angry if i don't go his way. I know at this point of time, he won't admit. But if you wanna say your bro spend money on me, so, you are saying, cig, drinks, food, I didn't spend any on him, you knows that I've got only very lil allowence I still spend. None of my EX needs me to pay for his food, drinks when we are out. What you see is just with your family. So to you its right to let a women spent money on a man rather then a men should spent money on his love ones? I didn't wanna dig out this issue really.
If I really care, I will dig out my diary to read about out`ings and recall. Well, even we are not together, I need to treat him, when he've got no money, I spend. I know in this relationship, money is not really an issue coz, to me, i really thought that we both spend on each other willingly. But seems that its wrong. When he got money, he will pay, if I've got the money, i will. So what is this about?
And ya, surprises, if he does that everyday, yes, that point of time i didn't reject coz i am happy to see him, but it isn't surprises anymore when he does that everyday.
But that night, I was too tired to entertain. so, i off my phone and he called my house and LIED. And I asked him not to come that day coz I know we are both very tired.
So, I did my part, what he do??
OK, my blog is so heaty now. I will cool it down with pictures that people really cheer me up =D
Thank you to my 2 boss`s, Relfy*,Vanessa* who called, Jevonne* and Yvonne* who came to me and bring me out at night. Gigi* my sis. And supporters on my tag. Just wanna thank everyone who help me go tru this =DD much LOVESSS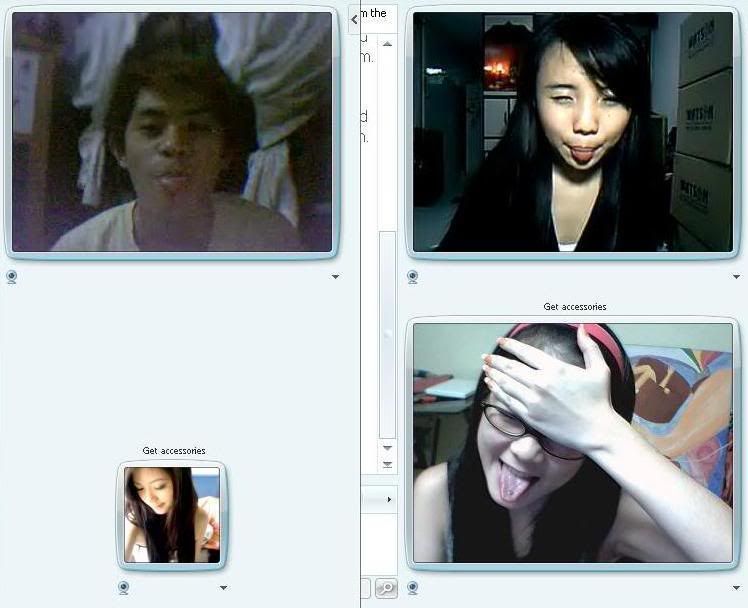 Ok, this was my idea and both of them didn't know a thing. So hard to ask both of them stick out their tonguez at the same time.
Was too bored. And I look so crazy..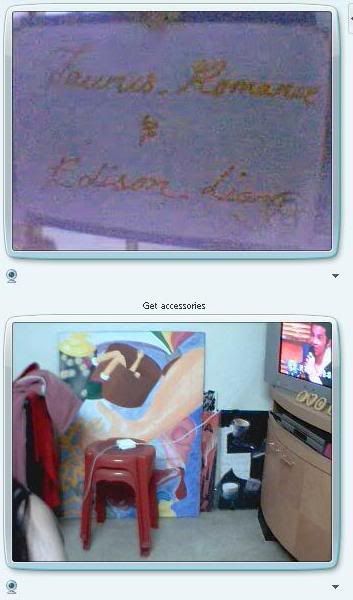 Yea, both heartbroken. =(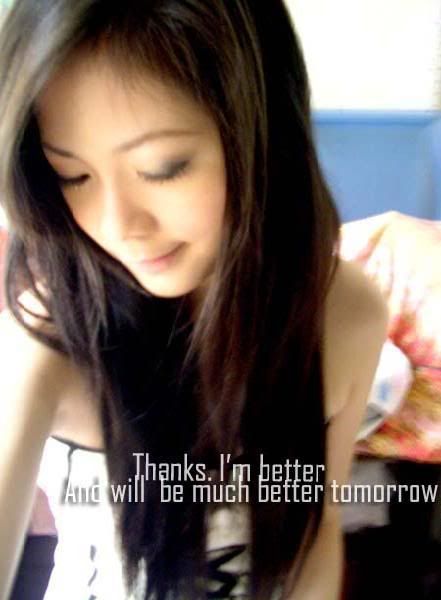 Don't know how to reply to tags but will, what i wanna reply i think I've already reply in this post.
Don't try to put me down. And thanks to people that really understands.
Never thought of I will have such a wordy post.
Think it might not be love but need.