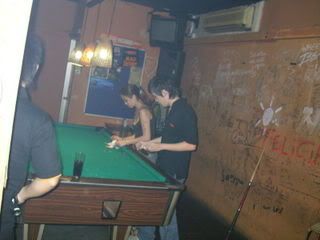 i HATE Sarah*!!!
she ate my $$$$
haha.. just kidding =x
just came back from geoges[donno if the spelling is correct]
share a jug with Jevonne*
she is kinda tired
but i didn't win Sarah*s $$$ so i go on and on till i have no more $$$$
how Fuk is it laa =x
anyway, prom night was a shyt
opps!
but ya, its really shitty to me!
coz theres only 19 of my classmates were there
and the whole damn thing is just singing and madly "shake`in" coz mostly didn't know how to dance PROPERLY
nvm
after prom was fun
out`in with my darlings!
we went to airport and just nice
bf was there and he join me
how coincident is tt
coz i was actually wanting to wait for him at his school
but at the end my skool didn't end early[went to take back my art]
so i didn't go and just went to look for my darlings
and i tell him i am headin to airport and he said he was in the airport
cheering for some top-cheif or sth and welcome them back to SG
so he went to look for my darlings there
so sad tt my darlings don welcome him
but why everyone only accept *HIM* but not my current BF?
not only them but many more =(
nvm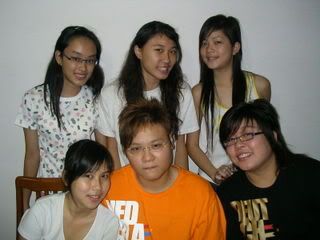 look like family photo?
in front is mummy, daddy, daddy's sis
buthind is 3 daughters xD
went to melissa*s house for some kinda sec skool gathering
ate so so so damn much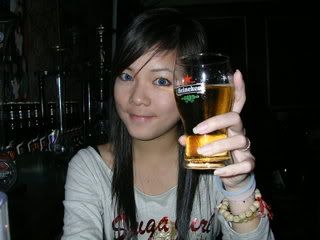 den no life till today
went to accompany Jevonne* to look for LiRong*
and den brought some flowers for LiRong*s mum
after tt went with Jevonne* to look for her job
sadly, she can't work
kinda pissed coz the person ask me to try out for few days
and i didn't reject
and i actually don wanna work at this places again
but, ya, i donno.. coz the pay was good as like "u name it" kinda pay?
so Jevonne* can't make it there so we went back to my old work place
we order 1 jug and my fav wedges[issit spell this way? aya wadever =x]
den i went to call Sarah* to ask if theres any vacancy for job there
den she started to ask me to play pool
and i lost $5 on tt. DAMN!
den i lost around $10++ on the card game
TO SARAH* AGAIN LAA
so sorry to Jevonne*
she is kinda tired and cannot take it already so we went home
[but its after i lose $$$ =(]
anyways, now i am home
will upload the pics soon
sorry if the post is too long =x
still must leave ur comment ok!
Joan*:: me too.. but its gone =( will send u the pics! but i haven't recieve also
wenXin*::LOL!! nv see u point at all
FrankyRaven::u won't understand wad pain is tt.. haha.. but its ok. ya.. i spent a lot now..i donno why the song is not working.. but its ok anyway =D anyway, m i a model? LOL
vampy::haha.. =DDD
muscleWOMEN::ok!LOL
LaoGong::but belly and tongue is different, and theres no problem in talking anyway =D haha.. will show u soon ya!!
sometimes i just wonder
why do i still think so much
i've got the answer
coz he wasn't there at the first place
anyway, will post more pictures soon!
will sleep in the morning
might appear in DXO tml night and have some fun =D