for the post tt i wrote about him*
i realise
i am such a OMG OMG
coz maybe i wan Honey* to love me more
the reason is just because
i expect too much
but he is also the only BF who loves to quarrel and say sth opposite of wad i am tryin to say
all the quarrels make us stronger right?
look at this!
Wayne says:kk, i dun disturb u already k?
Wayne says:i love u so much and miss u so much also!!!
JOJO says:=)
Wayne says:alright
Wayne says:go sleep now k?
JOJO says:wait..
JOJO says:i blog sth 1st
Wayne says:ok
Wayne says:i go pEEEEEEEEEEEEEEEE
he is just so cute
and i am sure i love him =x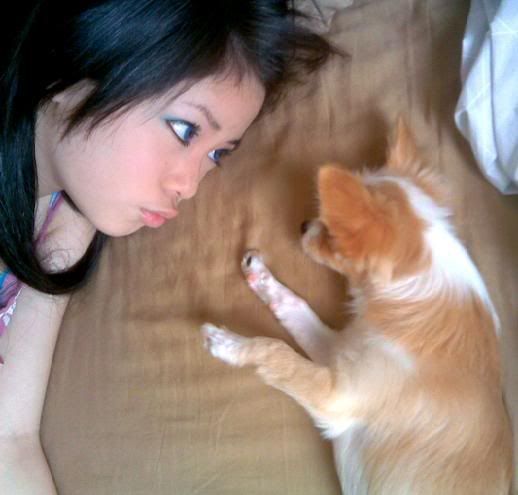 this day came
when someone talk shit about u, in YOUR BLOG
not feeling well now
don really know how to react
anyway, i NEVER tell anyone "i am so PRETTY/BEAUTIFUL!"
wads wrong with ugly people taking pictures and share?
is there a rule or its against the law?
are my pictures all over your room? ur house?
tt affects u so much when i just post pictures on my blog
you can just don come to my blog
anyway, thanks for the comment
i need this kinda comment to "push" my face to get prettier
i don mind you reminding me i am ugly
but please, if you want me to delete pictures from my blog
i don think theres a need to do it for you
coz theres a better choice
just don come to this blog
HoneyWAYNE*:: You have an ugly GF =D