was playing the computer in the early morning after vanessa*s roller blading session and my walking session coz last night was unable to sleep after all this clubbing nights. we find nth to do anymore. so we are trying to tune back our body clock to a proper one =) but, oh well, i just woke up[[ 1 hour ago ]]
when vanessa* and i are too bored, we will go to talk to smarterchild which is some kind of computer system with the auto reply thingy. its cute!!! and help us to spend our time
so sorry to vanessa*!!!! i m having STM in the morning and didn't think properly!!! so so so sorry!!! make u take the wrong bus.
when i get home, i went to stalk on CLAPBANGKISS's [[DawnYang]] blog. i know that taggy is also from her blog. so i tried to talk to her as her status is online. SHE REPLIED!!!!! OMGGGG!!! really, she is just so nice but i know she is busy. so didn't talk much. really hope to see her in real!!! but, well well, its impossible =(( after the chat ended, its like so, OMG + sad. my heart beat so so so fast wihile chatting with her!!! nearly melt and DIED!!
anyway, the taggy there is not a normal taggy, so IF i am online, tag me and PLEASE wait for me to load the page as my com is not a very good one, it might take about a minute. and IF i am not online, hope u all can leave a message at the end of my post like usual ok???? thanksss!!!!!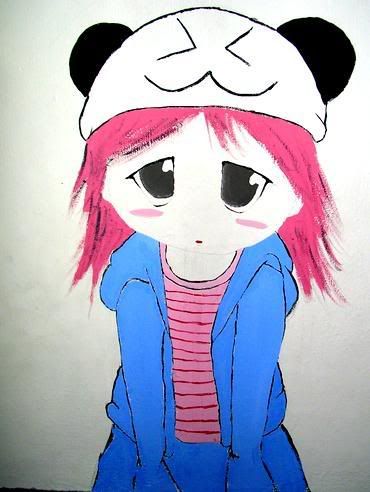 Drew this on vanessa*s wall
wanna post pictures of my nice nice nails. but can't =(
meiLing*:: so so so sorry, i've change it. thanks !!! will look for u soon