Wanna see 3 of our FHM babes on Animax?
Tune in to channel 84 on SCV starting today! 1st of July, 7.30pm.
3 each from FHM Singapore, FHM Malaysia and FHM Philippines – all dressed as Shana and shown on Animax channel.
We will each host an episode of Shakugan no Shana II.
So, look out for it!!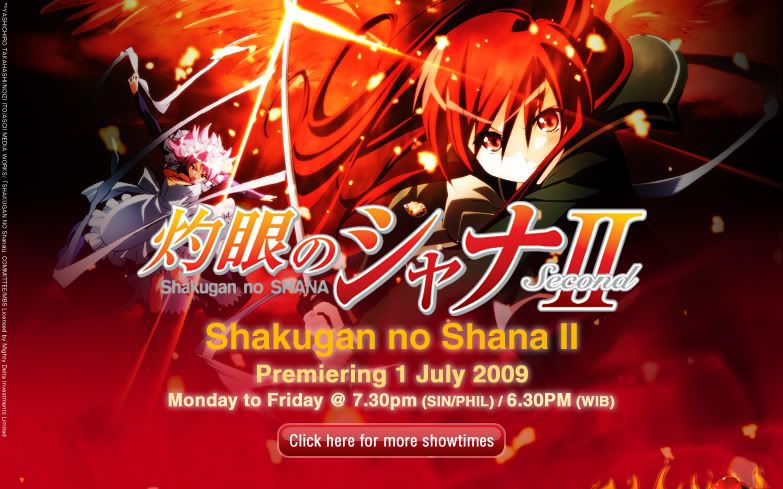 http://animax-asia.com/news/power-red-unleashed-animax-shakugan-no-shana-ii
Vote for us!!
http://animax-asia.com/Shakugan%20No%20Shana%20II%20Contest
You also get to see us on August issue of FHM!!
(It will be out on this month if I'm not wrong =P)
So, get a copy and see JOJO LAI* in red long hair!
Don't forget to support our Singapore FHM girls!!
May Wu* Jojo Lai* and Chrishirl Teng*!!!!
Sorry for not blogging much.
Thanks Brandon* for letting me use your lappy.
Will return it to you in whole. HAHAHA.
I am leaving to Tioman later!
You'll get to see another Jojo Lai*,
won't be as fair after the trip I guess.
I'll come back with lotsa pictures!
Another big thank you to Mr.GirlyGirl for the camera!
All the best for you ya! Remeber the "3th determination"!
Hope it come true cos Jojo Lai* say so. HAHA!
Relfy*:: See you when I come back ok? Miss!!
Guest:: Ya CRABBBBB!!!! Omg, you remind me. Craving mannnn
Melany*:: You meanie!! HAHA. Work with you again soon! Very fun luh! Don't DOTA too much! Noob. =P
Brandon*:: JensenY* call you that what. Will post when I upload to your lappy. (:
SoonYan*:: (:
YiFan*:: Ok! Call you when I'm Back! Will call you and Felicia* out when I am back! (: